Day 2. Sunday PCP Day.  
The day started with very little wind when I arrived at the venue.   That soon changed however, with the breeze picking up at around 08:15.     Not as much as Saturday, but still enough to make things interesting.  
The 13 shooters, once again lined up on the sighting in line, and checked everything over.   And then it was time to hit the course.    
Again, everyone made good time around the course, and were back at the finish area by early afternoon.  
A couple more target calls.   Target 35 was taken out due to it being faulty.  A hit was awarded to all shooters.  I do apologize to Dave J, and his shooting partner, I was not aware that you had not been told.   Your scorecards were adjusted when this was brought to my attention.  
Target 40 was also a problem child.  Going over for some and not for others.  Scorecards adjusted as required.  
I do not have any photos from Sundays activities, as I was busy shooting and other stuff.  However Brett Nixon took heaps of photos and even has some drone footage which we will be putting up on the NZAFTA Facebook page, when he has things edited and ready to publish.  
Facebook page can be found here.  https://www.facebook.com/nzafta/
A huge thank you to those that helped pack down the top half of the course and wind strings into the targets on the lower half of the course, made my Monday morning job of collecting the remaining NZAFTA Targets, and strings an hours work instead of all day.    Also to those that assisted with the BBQ, and other bits and pieces on both days of the competition, the assistance is greatly appreciated.  
Thanks to the following people.  
Brandon Syme for the design work on the certificates.    Very stylish, and professional.  
Brandon, Paul, and AJ for the work you all put in on the course build on the various days leading up to the weekend, and food, certificates etc.  Would not have been possible without it.  
Helen and Andrew from 643FT, for organizing the take home trophies for the class winners.  Very unique trophies.  
And thank you to all the Shooters who traveled to take part in the 2018 Nationals.   
The results :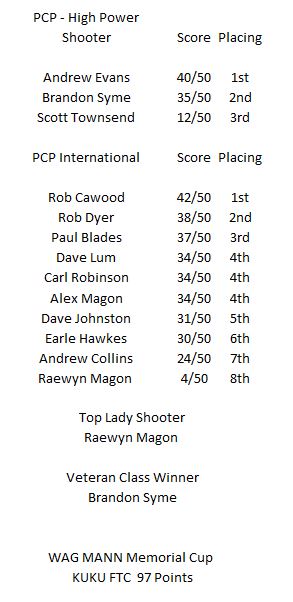 Please note that due to an error in the counting of a scorecard, Brandon Syme, is now the Winner of the Veteran's Class with a score of 35, over Alex Magon with a score of 34.   Match officials and BOGS have verified the scorecards, and have contacted the parties.   Apologies to those shooters.